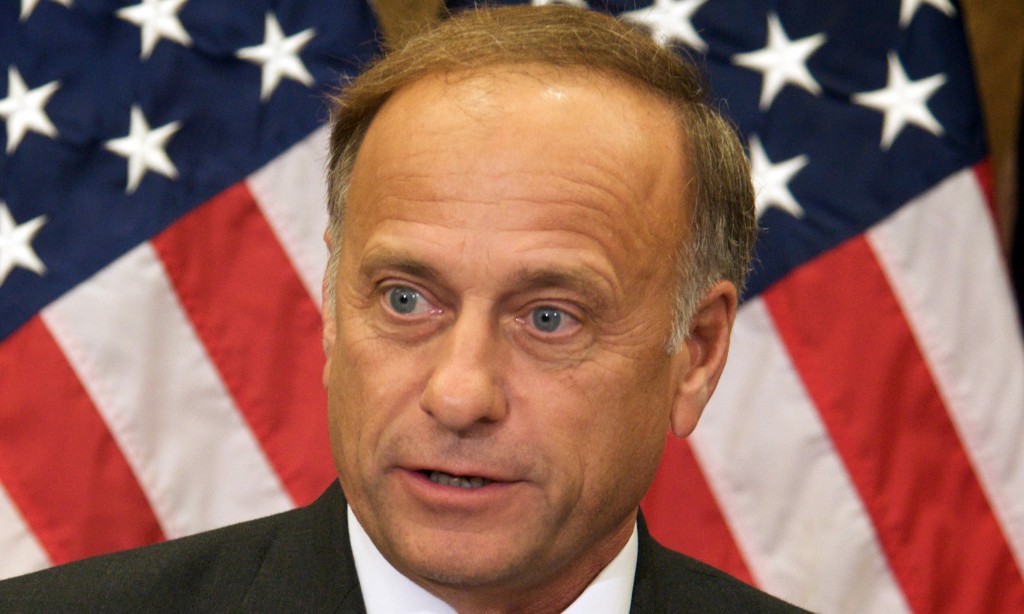 Although the 2016 presidential elections are two years away, early entrants into the Republican presidential field have apparently decided that immigration is a topic that can safely be exploited. Similarly, congressional Republicans, particularly newly appointed Senate Immigration Subcommittee chair, Jeff Sessions, is offering up a game plan that seems designed to pit immigrants against American workers, even if that is contrary to the best interests of the country and the Republican party.
For example, Rep. Steve King (R-IA) on Saturday hosted one of the "first major event of the Republicans' 2016 cycle," according to Yahoo News, where possible candidates like New Jersey Gov. Chris Christie and former Texas Gov. Rick Perry spoke along with former vice presidential candidate Sarah Palin, Donald Trump, and Sen. Ted Cruz. King, a vocal critic of immigration reform, opened the event by joking about how immigrants come from another planet. "We come from every possible planet, uh, every possible continent," King said. "They're across the street, those people that come from the other planet," King added in reference to the DREAM Action Coalition, an immigration advocacy group protesting the event in Des Moines.
Earlier last week, King tweeted before the State of the Union that one of First Lady Michelle Obama's guests, 20-year-old Ana Zamora who received deportation relief through the Deferred Action for Childhood Arrivals program, was "a deportable." "#Obama perverts 'prosecutorial discretion' by inviting a deportable to sit in place of honor at #SOTU w/1st Lady," King wrote. "I should sit with Alito."
During the Saturday speeches, the president's immigration executive actions were frequent targets:
Former Alaska Gov. Sarah Palin called President Barack Obama "an overgrown little boy" for his executive action last year on immigration. And television personality Donald Trump criticized Bush for saying last year that some illegal immigrants come to the United States as an "act of love" to provide for their families.

"Remember," Trump said, in a gross mischaracterization of undocumented immigrants, "half of them are criminals."
Separately from King's Iowa gathering, former Florida Gov. Jeb Bush addressed immigration in San Francisco. Bush, who declared in December that he's seriously considering a presidential bid, said a healthy immigration system is a key part of economic growth. "Our national identity is not based on race or some kind of exclusionary belief," Bush said. "Historically, the unwritten contract has been: Come legally to this country, embrace our values, learn English, work, and you can be as American as anybody else. Immigrants are an engine of economic vitality."
While potential candidates stake their own positions on immigration, Sen. Jeff Sessions continues his own work in Congress. Sessions, known for his anti-immigration advocacy, became chairman of the Senate Subcommittee on Immigration, Refugees and Border Security. He promptly renamed the subcommittee as "Immigration and the National Interest" because his focus "will be to advance the core interests of the nation and its people. On no issue have special interests had a tighter grip than on the issue of immigration," Sessions said. According to Talking Points Memo, he vowed to give voice to the working families and American workers who have been hurt by "record immigration."
Following the 2012 elections, a self-study initiated by Republican National Committee Chairman Reince Priebus concluded that immigration reform is not only economically sound, but also demographically essential if Republicans are to remain a national party. It's not clear if that lesson sunk in for many members of the party.
Photo Courtesy of House GOP.