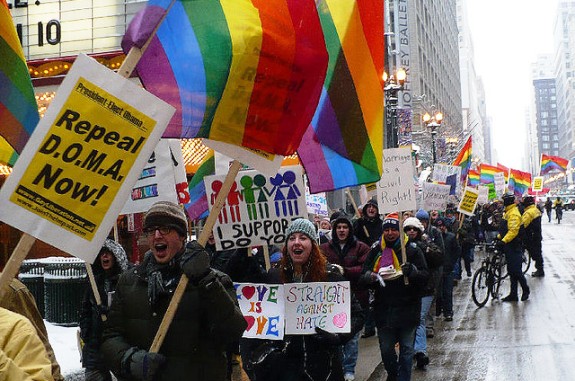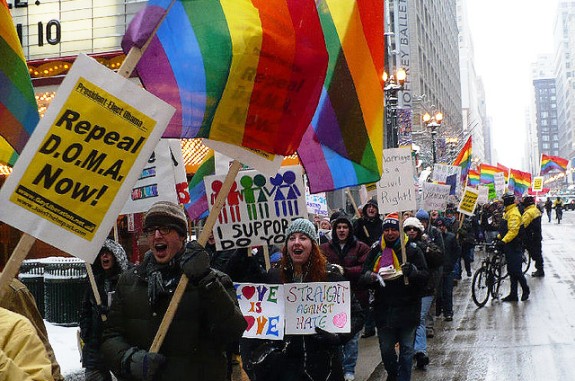 BY BETH WERLIN AND VICTORIA NEILSON
To date, five states plus the District of Columbia celebrate marriages of gay and lesbian couples and several other states honor such marriages.  In addition, five countries, including Canada, permit marriages of gay and lesbian couples and at least fourteen additional countries recognize same-sex relationships for immigration purposes.  Yet, because the U.S. immigration agencies rely on section 3 of the Defense of Marriage Act (DOMA)—defining marriage as a union between one man and one woman—lesbian and gay U.S. citizens and lawful permanent residents are barred from obtaining immigrant visas for their spouses, visas that are available to heterosexual U.S. citizens and residents with foreign-born spouses.  Gay and lesbian noncitizens also are precluded from obtaining other immigration protections, including relief from removal, based on a marriage to a U.S. citizen or permanent resident.  As a result, families are separated and spouses of U.S. citizens and lawful permanent residents are deported from the United States.

There are signs, however, that DOMA's days are numbered.  Last year, the Gay & Lesbian Advocates & Defenders (GLAD) achieved the first court victory in a case challenging DOMA.  In the context of Social Security, taxes, and other federal benefits, a district court in Massachusetts held that section 3 of DOMA is unconstitutional.  In reaching this conclusion, the court found that there was no rational basis for discriminating against married same sex couples.  That case is currently on appeal in the First Circuit. Similar cases challenging DOMA are pending in other district courts.
Just a few months after the Massachusetts district court decision, in February 2011, the Obama Administration took a historic step and announced that it would not defend Section 3 in federal court because, after careful study, it believed the law was unconstitutional.  The U.S. House of Representatives has stepped in to defend the law and has hired a former Bush Administration Solicitor General, Paul Clement, to represent the House in DOMA litigation.  As a result, legal challenges to DOMA will continue to move forward.  It is likely that the Supreme Court ultimately will decide the issue.  A judicial resolution of DOMA in one of these cases will have a considerable—perhaps dispositive—impact on the application of DOMA in immigration cases.  There is also legislation pending in Congress which would repeal DOMA and other legislation which would extend immigration benefits to lesbian and gay couples.
Unfortunately, while we await a final resolution, the Administration has said it will continue to "enforce" section 3 of DOMA.  That means that the government will continue to deny visa petitions filed by U.S. citizens or lawful permanent residents on behalf of their spouses.  Particularly troubling, lesbian and gay noncitizens who are married to U.S. citizens continue to be placed in deportation proceedings and, as a result, face possible removal from the United States.  The Executive Office for Immigration Review (the immigration court system) has said, however, it "continues, where appropriate to exercise discretion in individual cases based on the unique factors presented by that particular case."  And, significantly, in Matter of Dorman, which involves immigration protections based upon a civil union between two gay men, the Attorney General remanded the case to the Board of Immigration Appeals to determine "whether and how the constitutionality of DOMA is implicated."  Legal advocates are taking steps to protect their clients in the interim.
Given that the law surrounding DOMA is developing and that the Administration has concluded that Section 3 of DOMA is unconstitutional, the immigration judges and the Board of Immigration Appeals should exercise their discretion to stay removal cases pending a resolution of DOMA.
Photo by Gay Liberation Network.