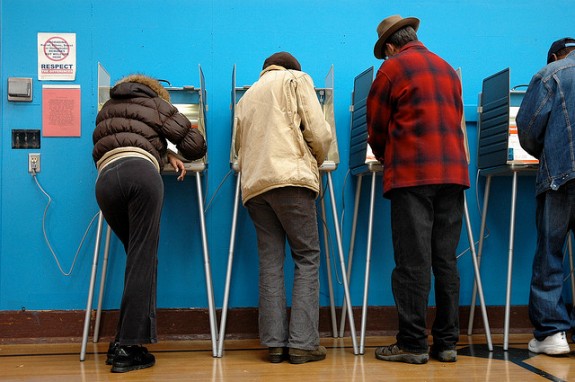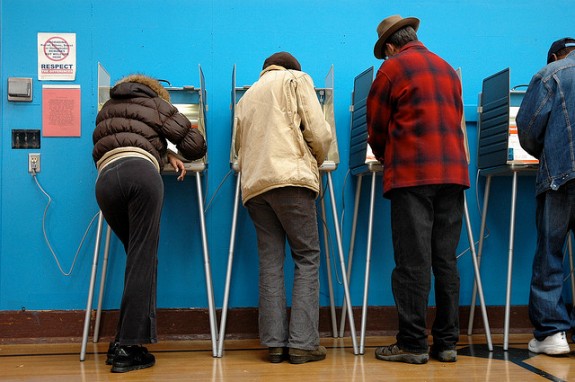 Three of the twelve states holding Republican primaries or caucuses on Super Tuesday—Georgia, Massachusetts and Virginia—show especially strong trends in the numbers of foreign-born residents who have become U.S. citizens. This trend is significant given that these new Americans are able to register and vote. Immigrant communities in each of these states are large, exceeding 800,000 persons, and make up almost 10% or more of the statewide population. In fact, these three states are home to 71% of all immigrants living in the Super Tuesday states. While we don't yet know how many of these naturalized U.S. citizens will vote on Super Tuesday or in the general election, GOP presidential candidates—many of whom have taken a hard line on immigration—would do well to take note of this trend.

Georgia, Massachusetts and Virginia have by far the fastest increases in naturalization.  The percent of immigrants who are citizens increased by 4.5 percentage points in Georgia, 4.7 in Massachusetts and 3.5 in Virginia.  In other states with smaller immigrant populations, the naturalization rates rose more slowly or declined.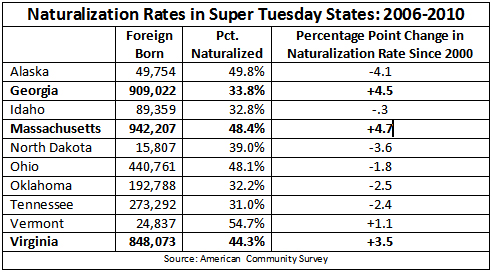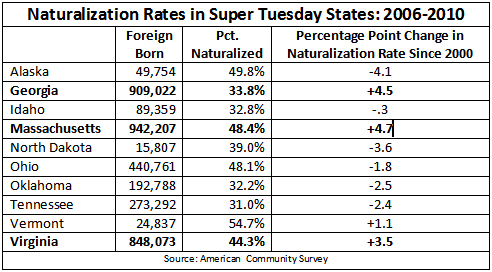 Perhaps these three states' large immigrant populations form a critical mass, which supports the existence of immigrant-serving organizations that promote naturalization. These organizations also likely garner support from elected officials, who know that naturalization can tip the balance in elections.
Moreover, these trends suggest that more, not fewer, immigrants in a state lead to greater immigrant integration, naturalization and civic participation. Candidates and elected officials who care about winning elections would do well to support immigrants' efforts to naturalize, rather than focus solely on hard line immigration enforcement policies. After all, a newly naturalized citizen is a potential new voter.
Photo by Columbia City Blog.
FILED UNDER:
Integration
,
naturalization
,
undocumented immigration
,
Voting